Nurse Call
First Impulse installs and supports nurse call from Critical Alert Nurse Call Systems, a leading nurse call developer and manufacturer.

Although nurse call systems have been around for decades, there has been a multitude of advances made in infrastructure, integrations with communications, RTLS (Real Time Location System) and other technologies as well as in clinical workflow best practices. Because of the high cost and long-term utilization associated with a nurse call deployment, it is extremely important to stay ahead of the curve in terms of flexibility, usability and interoperability.

Critical Alert creates highly flexible and cost effective nurse call systems, designed for the complexities of today's clinical settings. They have also pioneered the development of native integrations with industry leading wireless clinical communications devices, beds, RTLS and patient entertainment platforms without the need for middleware.
Critical Alert – CommonPath Advanced Nurse Call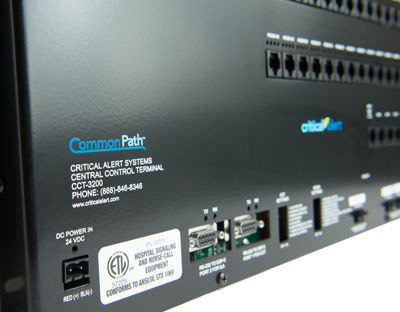 CommonPath, Critical Alert's advanced nurse call system, is engineered to optimize clinical communication in large medical facilities and acute care hospital environments. CommonPath combines standard nurse call devices with a highly advanced software platform that enables a facility to support multiple communication platforms through the nurse call system without the need for middleware. CommonPath utilizes a specialized RTLS, enhancing both workflow capabilities, bed-level presence awareness and forensic reporting.
Critical Alert – System 100
First Impulse also offers Critical Alert's System 100 product line, an entry-level nurse call system, optimized to support small medical facilities. From outpatient surgery centers to larger private practices, the System 100 product line is designed to support various device types from staff emergency to code blue notifications. System 100 Visual Annunciator Panels (VAP) can be installed in a flush, wall-mounted fashion or mounted to a desktop for staff convenience.
Please click here to learn more about Critical Alert Nurse Call Systems. (www.nursecall.com)
Systems